Torsion Control Products
Spring Coupling Product Specifications
Typical Ratings: 20 to 20,000 lb-ft (27 to 27,000 N-m)
Environment: Dry, Lubricated, Hot or Cold.
Performance: Consistent throughout the life of the product.
Tuning Capability: Torsion Control Products Spring Couplings are tuned for specific applications.
Long Life: Torsion Control Products couplings are designed to produce long life in any environment.
Proven Durability: In the roughest applications steel couplings continue to operate, continue to address driveline torsionals.
Spring Couplings vs Drive Plates
Although not all applications require torsional compliance, Torsion Control Products' engineers will evaluate your application and determine if a spring coupling would provide an advantage over a conventional drive plate. TCP has engineered and developed a comprehensive line of Spring Couplings used in a wide variety of powertrain applications.
These devices offer the following advantages in most applications:
Torsional vibration isolation
Resonance isolation
Overload and shock load protection
Noise attenuation
Improved bearing/gear life
Increased system durability
Advantages of using Torsion Control Products' Spring Couplings:
All steel construction for long life
Lubricated and non-lubricated environments
Low rate/long life couplings
Temperature extremes do not affect performance or durability
Performance can be optimized for a given application
Multistage stiffness for optimized system tuning
Controlled coulomb damping
Drop-in replacement for original drive plates, no spacers required
Integral shaft support capability eliminates the need for additional bearing support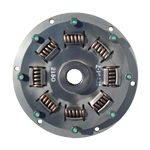 Torsion Coupling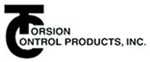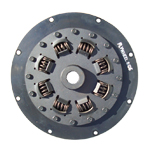 Torsion Coupling