Industrial Power Take Off
We stock genuine and aftermarket wear parts for your industrial over center clutches for those originally manufactured by: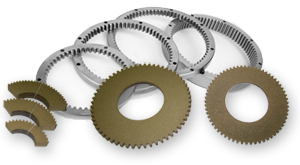 NACD
Twin Disc Clutch Parts
Rockford Clutch
GP Powertrain
AP Clutch
PEC Manufacturing
We stock the following:
Clutch Assemblies
Complete Power Take Off's
Gear Tooth Facings (Friction Discs)
Drive Rings
Clutch Shafts - 7" thru Triple 14"
Clutch Kits
Grease Hose Assemblies
Release Bearings (Sliding Sleeve Assemblies)
Surplus New & Used Parts & Rebuilt Exchange Units
Manual Power Take Offs/Clutches
Custom rebuilding for all industrial clutches.
Industrial NACD PTO
NACD Clutches are an exciting addition to our line of over center mechanical power take off's.
NACD has become a leading manufacturer of clutches, clutch systems, Power Take-Off assemblies and their clutches.
NACD Power Take Off's are used on blowers, chippers, compressors, conveyors, crushers, generators, mixers, pumps and other equipment that require a disconnect clutch. The NACD Power Take Off is completely inter-changeable with the Rockford Powertrain style industrial over-centre clutch.
NACD products can be found in the Agricultural, Construction & Mining, Oil & Gas and Industries.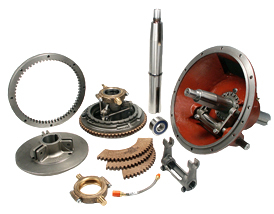 NACD (Rockford) Spread Bearing Power Take Off
Eliminate the need for a pilot bearing. A rugged PTO for those heavy duty side loads.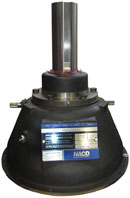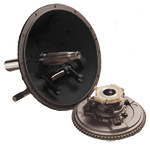 Typical Industrial Power Take Off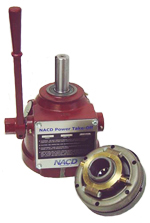 Small Engine PTO
The NACD small engine power take off uses a 5.5" clutch in a special housing that will mount to a number of engines. It fits on a 7" pilot with a 7-3/4 bolt circle or a 7-7/8 pilot with a 8-5/8 bolt circle.
Designed for gasoline and diesel engines with a horizontal output shaft and are available in a dry version.